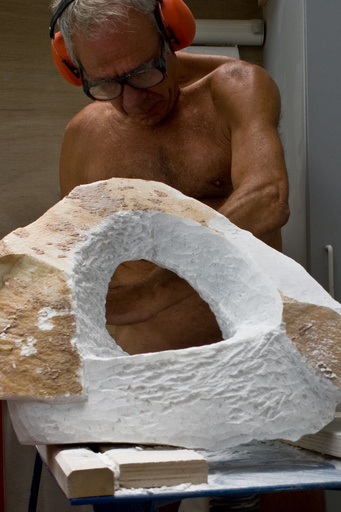 Born 1938. I qualified as an architect, my other arts are self taught. As an architect I have been working independently until 2003. I also developed a digital information system for the construction industry which still requires part of my time.
Today I can be found almost every day in my studio. Having a rather small studio at home I travel every year to Italy where I work in the studio of Fondazione ARKAD in Seravezza, close to the sculptor's paradise Pietrasanta, for more space and contact with other sculptors.
My works are of different stone types like marble and alabaster, or wood such as beech, acacia, birch and fir. The rough cutting is done mechanically, driven by compressed air, the finnish however is all done by hand.
My inspiration comes mostly from the piece of stone or wood that is on the rack, finding the shape that's enclosed within. The cutting process that follows is a dialogue with the material. Only with pieces of material that are mechanically sawn do I start with a prefixed idea, but I always work without a model (taille direct). The shape that evolves is sometimes a human figure, sometimes abstract, and somteimes something in between.